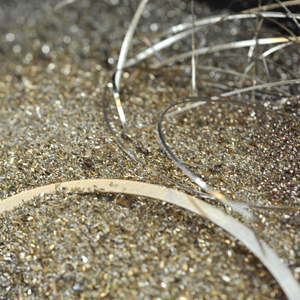 Emilbronzo 2000 has 40 years of experience in the supply of non-ferrous materials (bronze in all alloys, brass and aluminium and castings to design). At Emilbronzo we interpret specific requirements in detail, providing a wide range of solutions and certifiable quality. To best meet our customers' demands we are backed by a continuous casting production system, which allows us to provide bars, but especially tubes in special sizes and limited thicknesses, to cut cost problems as much as possible and provide the best answer to customers' needs. Our warehouse stocks materials in all alloys and a vast range of sizes (from 13 mm to 400 mm diameter) to ensure our customers always get quick, on time deliveries and can be confident they will find the materials they need for their specific machining requirements.
Flexibility is our strong point.
Complying with a world which increasingly tends towards specialisation in most sectors – and calls for specific expertise in any particular field – we have always strived to maintain our identity. Starting from a small workshop we are today a company which has 15 employees, counting workers and administrative employees. Mechanical processes are run on the latest generation of machining centres and CNC machines. We are able to produce standard parts such as bushings and bearing brasses for general applications, right through to more elaborate mechanical parts tailor-made to our customers' requests. If the customer has a problem, we have the solution.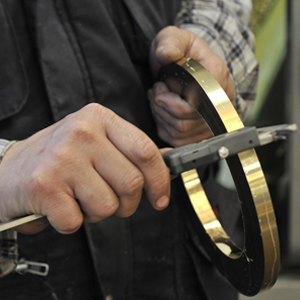 For dimensional and product testing Emilbronzo has for many years relied on the competent service offered by Studio Tecnico Associato, a small company with a staff of professionals, ISO9001:2008 certified and accredited by the Ministry of the Interior and the Ministry of Defence as well as by the courts for which it periodically carries out a technical advisory service.
Emilbronzo is therefore able to provide certificates complying with 3.1 EN 10204:2004 regulations for the chemical composition of its materials and for the mechanical properties of the parts produced, precisely by virtue of this well-established collaboration.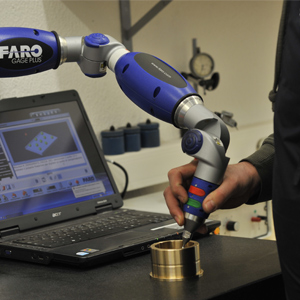 Tests carried out in the laboratory or by means of special portable instruments represent the data collection method used to prepare reports on the characteristics of the materials and the treatments to which they have been subjected. The reaction of the materials to the various tests varies depending on the chemical, mechanical and structural characteristics to be detected.
Our laboratories are able to provide detailed reports on a vast array of materials, with particular attention to metal alloys. By definition a metal alloy is an aggregate of two or more chemical elements which has metallic characteristics. Using an analytical method to establish the structure, percentages and quantities of components and features which distinguish a metal alloy enables us to determine its classification.
The equipment is checked periodically by certified institutions and manufacturers for calibration and reliability. This is the cornerstone of the analyses and testing which Studio Tecnico Associato performs on behalf of Emilbronzo.
The experience of our engineers completes the certification process, providing the necessary and essential interaction with the machines among which we can mention those most frequently used, such as durometers, spectrometers, profilometers and 3D measuring equipment, but also high magnification optical instruments.